Priest/Mentor - Fr. John M. Scott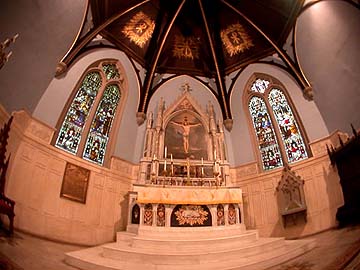 Of your charity please pray for Fr. John Morgan Scott, in great peril of health and near death. He has been suffering from parkinsons for many years, and another retired priest in Philly informed me yesterday via email that he had been to see him and gave him extreme unction.

Although theologically John and I had many a disagreement, he shepherded me through the ordination process while a student at Penn and attending St. Mary's Church, Hamilton Village (pictured here). He then went to bat for me when I was turned down by the 'progressive' Diocese of Pennsylvania for my traditional theological leanings. Although he was not happy that I ended up being adopted by the more traditional Diocese of Quincy to be sent to seminary, we kept in touch and he made an amazing gift to me at my ordination.

John was a 1953 graduate of Nashotah House Theological Seminary, and a dyed-in-the-wool Anglo-Catholic sponsored for ordination by the Diocese of Long Island. During the turbulent 1960's John and his parish on the University of Pennsylvania's campus became very active in progressive causes. They were involved in the anti-vietnam war movement, and John's first introduction to a newly enthroned bishop of Pennsylvania was when the bishop came to bail him out of prison after a protest. His parish's longtime sponsorship of a folk music co-op was a natural cross-pollization with his work with the Episcopal Peace Fellowship. Although we didn't always agree with each other on 'issues' (theological and social), it was interesting that on evening I had pizza with John and a folk singer who was performing later that evening for a special prayer service for the Berrigen brothers (Jesuit priests who were arrested for a protest), only to find out later that the bearded old hippy we ate with was a famous folk singer (Pete Seegar).

John was also a Third Order Franciscan in the old Order of St. Francis and was instrumental in their merger with the English order to become the Society of St. Francis. He was their minister general for several years

So despite all our disagreements, John's mentorship made a deep impression on me. His nurturing of my Third Order Franciscan Vocation and shepherding me through the ordination process in a liberal parish and diocese despite my traditionalist leanings were important. But perhaps more important was that his parish had daily mass and daily Evening Prayer (I staggered in one evening for EP when I saw the door open and the bell ringing, just out of curiousity.... 3 months later I was getting sober and being reconciled to our Lord) at which I received the sacrament frequently and prayed and heard the Word of God, beginning a frequent Mass and Daily Office discipline which by grace continues these 17 years later!

His love and concern for the poor was also an inspiration. He helped to found the local homeless feeding ministry in West Philadelphia and hosted a portion of it at the parish. He had a way of receiving of the homeless at services as if they were the most important people there, and could move as easily among millionaires as he could the destitute. Yet he was human and his sharing of his frustrations showed that he was not pollyanna-ish about this part of ministry. I think of John frequently when dealing with our many weekday guests how come to the office looking for a hand-out.

John's ordination gift to me? He retired as Rector of St. Mary's Church, Hamilton Village after 30+ years as rector in 1992. He had helped 35 people into the ordination process in those years! At my ordination to the priesthood in 1994 at The Church of the Good Shepherd in Rosemont he gave me the chalice he received at his ordination to the priesthood. I have used that chalice at every daily Mass at each of the parishes I have served, (and the 8am Service here at St. John's in Detroit), remembering him at the Altar as I elevate the Chalice and see his name and mine engraved on the bottom.

The disease has destroyed Fr. Scott's cognitive abilities. I pray his last days will be grace-filled and peaceful, and that he will be received into his Saviour's loving arms at his last. And I pray for his wife Fran, so faithful in their 50+ year marriage and now in keeping vigil in John's final sickness.