Looking back...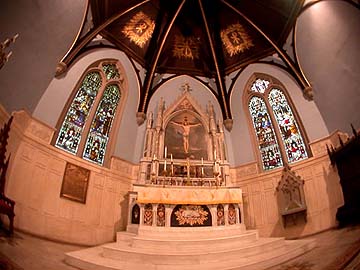 It was at this parish that the Lord took me up on my newfound desire to serve Him.
At the side altar at this parish I began attending Evening Prayer a couple of days a week in the Fall of 1988, which opened me to hearing the prompting of the spirit to get sober in January of 1989.
It was this parish that I began the discipline of weekday Mass attendance and learned about the Saints of the Church, including Thomas a Kempis, whose Imitation of Christ changed my life and how I looked at scripture and Christ's Church.
It was meditating on this Altar's artwork that I began an appreciation of the Passion.
It was here that I first became an active member of a parish, and later a vestryman.
It was from here that I first applied for postulancy for ordination in the Episcopal Church (was turned down, later to be adopted by a much more theologically sound diocese).
It was from the Rector of this parish that I received the gift, after his retirement and my ordination, of the chalice we use for weekday Masses here at St. John's. He used it for daily Masses from 1953 to 1993. I have used it since 1994.
It was at this very high altar that I said my first Requiem Mass, as a newly ordained priest of 5 days.
I received an email today with a picture of this altar on it. Thought I would share it with you.
Labels: Rector's Rambling